You would be very suprised at your stocking on low price,if you import products directly from Japan! Risk is little if you start importing them by yourself, furthermore the procedure is easier than you would think.
What you should do when importing it is only two things.
Choose products for importing from reliable company's stock.
Find and contact your customs clearance trader in your country. They and we can help arranging for your business.
Some documents would be needed for importing products directly from other countries and it confuse you and won't be clear actuall price how much you would have to spend. But actually, your customs clearance trader can do that such a troublesome arrangement for importing and you hardly do anything. However way of arrangement depends on each countries, it may be necessary to get license of importing products.
Assistance details
We kindly assist your new business opportunity
We will inform you machines condition after carefully checking.
To inform you almost total price for importing products from Japan.
(The machine price, delivery cost,charge for exporting, ocean freight,ocean insurance,charge for importing,tax and delivery cost to your property.)
* Details as below
Making documents and advice for importing products.
New spare parts can be ordered if you would like.
Please ask us everything if you have any questions.
Making order as container cargo.
We recommend that using container cargo to make order to avoid high ocean freight on per unit if you would like to take units per one cheaply. About 8 to 12units will be loaded to 20ft container, and 16 to 28units will be loaded to 40ft container however it depends on models. Please ask us the details,we can arrange that for fully container.
Welcome to our yard to see our machines.
If you would like to visit our yard, please inform us in advance. We can tell you how to access our company and pick you up from transport station.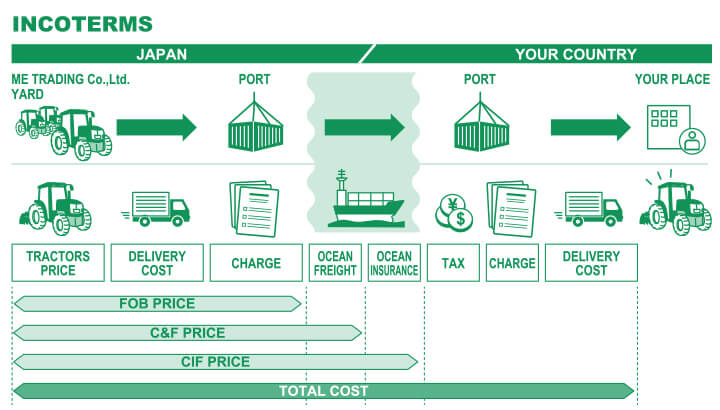 Large inventory available with new equipment arriving daily. Contact us to have the latest inventory and price lists sent to you.
Register now