Merit of Registration
Registration for FARM MART has the following advantages. We encourage you to register for better information.
1. You can check the prices of all products.
2. You can add products to your cart and apply for opportunities.
3. FARM MART will send you a notification of the arrival of new products.
Register now
Our Superiority
Primary Market: more than

80

countries
North and South America, Europe, Africa, Southeast Asia, NZ, Australia, Middle East.
Number of Customers:

213

companies
Average Quantity of Container Cargo:

18.2


(size 20 or 40ft, Jan 2010 to Aug 2011.)
To thoroughly inspect quality of machines, we do not deal with many container loading.
Annual Quantity of Tractor Exported:

3,350

units
(Jan 2010 to Aug 2011)
Annual Quantity of Tractor Exported: 3,350 units
(Jan 2010 to Aug 2011)
Repeat-Order Rate within a Year:

89.3%
Our customers endorse our effective shipment arrangement for ordered machines and orders twice a year.
Buying domestic
5 to 7 units of used tractors are collected each day in the western part of Japan. For inspection purposes, they are first sent to our yard.


Inspecting quality
Conditions of used tractors are carefully inspected by our engineers who have technical qualifications. Inspection results are then written down on the inspect sheet for stock management purposes. Conditions of used tractors are surely inspected twice, when products arrive and when they are decided to be shipped out.


Washing
Used tractors are thoroughly cleaned after inspection. They will be carefully stored in our yard until you order.

Repair
Our repairman will look after the tractors by maintaining them in a good state of conditions.

Dismantlement for Loading
Ordered tractors are dismantled to be loaded into a container. Chassis number will be placed on each part so that you can easily assemble them (if you prefer chassis number not being placed, please inform us in advance)
Loading
To assure no damages are caused during shipping process, we pay attentions to every details for container loading. Due to these efforts, we have received very little complains from our customers.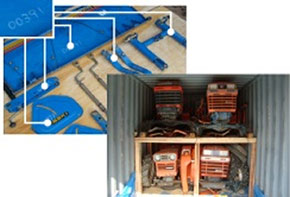 Dismantled tractor parts
(chassis number is placed on each part)
Safety loading
Register now